NwETA principals Diane Rohlman and Kent Anger have collaborations throughout the US and the world through their research program at OHSU. Completed collaborations are reflected on our publications (BARS) page and are listed at the bottom of this page. Many others are works in progress. The institutions where our current collaborators and licensees work, are listed below:
Advanced Medical and Dental Institute (Indonesia)
Aarhus University (used in Bolivia)
American University of Beirut (Lebanon)
CHAMACOS (California)
Jazan University (Saudi Arabia)
Johns Hopkins University (used in Mexico)
Menoufia University (Egypt)
Oregon Health & Science University (home of BARS)
Social & Scientific Systems
Stony Brook University
University of Brasilia (Brasil)
University of Iowa (lead developer of BARS Diane Rohlman's home institution)
University of Medicine and Dentistry of New Jersey (RWJ Medical School) (used in Thailand)
Universidad de Huelva (Spain)
University College London
Wayne State University/Philippines University
The picture is from Brasil where tomato workers who have applied pesticides, and controls, were being tested with BARS.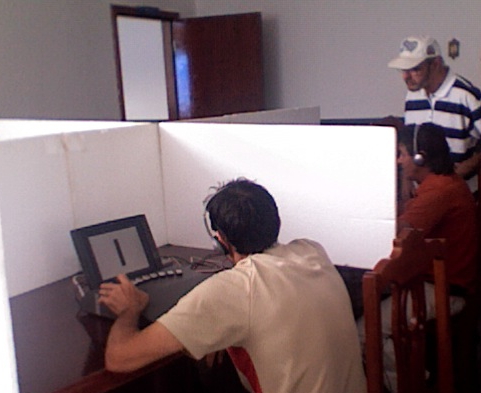 Previous collaborators (see publications)
ATSDR (H2S)
Center to Protect Workers' Rights (Hanford heat stress project)
Emory University
Gerber Foundation
LDS Hospitals
Maine VA hospitals
NIEHS (intramural program)
NIOSH (pesticide poisoning patients)
OHSU Cancer Center
OHSU PTSD Clinic
OHSU Seizure Clinic
OHSU/CROET (Valerian study)
Portland Environmental Hazards Research Center (VA + OHSU)
Portland VA Gulf War Clinic
Korea Occupational Safety and Health Agency (KOSHA)
Texas Department of Health (Mercury exposures)
Thuris Corporation
Trinity College
University of Liverpool
University of California/Stanislaus
University of Pennsylvania
US Environmental Protection Agency (orchard workers)
US Veterans Administration (Khamasiyah)
USAF (Fuelers)