Who we are
NwETA's managers are academics who have developed training and assessment software and training titles through research grants (~$30M focused on training and assessment).
Why we created NwETA
We created NwETA to fund the evolution of the software into commercial products and to build a platform for dissemination of our products as they expand our academic careers.
Investors welcome, and why
NwETA welcomes investors to speed the development of the company by: (a) establishing an executive corps and marketing team, and (b) building up the training title portfolio at a rate faster than our current income allows.
We do NIH- and CDC-funded research in which we:
• develop highly interactive behavior-based computer training titles that trainees like (rate highly)
• use those titles to educate workers and managers in workplace skills, safety, health and wellness with proven, measurable results – knowledge transfer and behavior change
• license the training title development software and an assessment product, both used internationally in partnership with others
Why you should invest in NwETA?
Training is essential to every business, which is why industry spends $90B/year on it.  There is much to do, and do well.
Who believes in us?
NwETA is a spinoff company of the Oregon Health & Science University (OHSU) that is wholly owned by its managers who pay a royalty to OHSU based on sales.  Our software has been tested successfully in companies and government organizations.  Everyone who has worked with us has expressed an interest in using our training titles or software, and some have purchased licenses to the titles we have made available.
Where are the details?
Details that support this page are found under the NwETA about pages and on the cTRAIN populations page on this web site.   Click to download our INVESTOR SLIDE DECK with details on investment opportunities.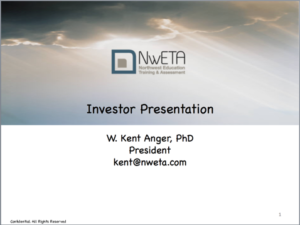 Who to contact
For business and financial information, please contact NwETA's President at: kent@nweta.com