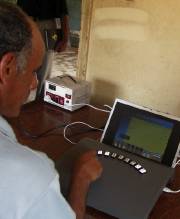 NwETA provides superior training and assessment/testing products that we developed and tested extensively in NIH- and CDC-supported research grants. We now offer these products to a wider audience through NwETA, along with training titles developed in our research.
Training Solutions
NwETA offers (1) cTRAIN software you can use to deliver your training, and (2) training titles in occupational safety, health and wellness, in cTRAIN.
cTRAIN specializes in delivering computer-based training to people who are not familiar with computers, although  well-educated learners also rate it easy to use.
cTRAIN uses proven behavioral training principles:
self-pacing (learn at your own rate)
interactive training (frequent quizzes and immediate feedback)
cTRAIN is effective among people with limited education, because it employs:
Intuitive navigation with always-visible direction, and simple user instructions

Simplified tablet option 

Spoken text option on every training screen
Pictures, animations, and movies
cTRAIN – when you really want to train everyone
Assessment Solutions
NwETA offers the Behavioral Assessment and Research System (BARS) used internationally to detect brain and nervous system dysfunction due to exposure to occupational and environmental chemicals (e.g., pesticides).  Like cTRAIN, BARS is effective with people from diverse cultures and with no education through those with college degrees. as shown in our research, due to simple instructions, intuitive navigation and the use of the 9BUTTON, shown below (required).