Connecting the DataSled to a Powerbook

Connect the white DataSled/9BUTTON cord to the printer connector (right) on the back of the Apple Powerbook (PB) 500 or higher series (PBs with active matrix screens are highly recommended to prevent stimulus ghosting that affects timed data in ways that cannot be evaluated). Connect the DataSled/9BUTTON to the IF Unit as shown below.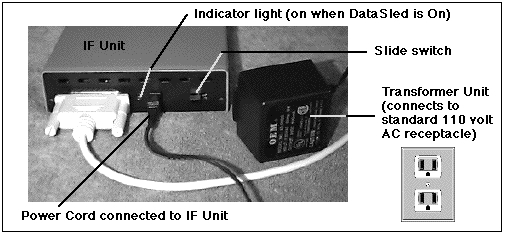 Start the computer and BARS BEFORE moving the Slide Switch right to power up the DataSled/9BUTTON.
Starting BARS
Start the computer, open the BARS file (eg, click on the BARS master tab) and click twice on the BARS icon. Click on the File pulldown menu and select open an existing project (battery) or a new project, click twice on the battery you want to use. To "run" the battery (eg. to test people), pull down the battery menu and select "run."
Creating or Changing a Battery
Opening "All BARS" will reveal the following panel.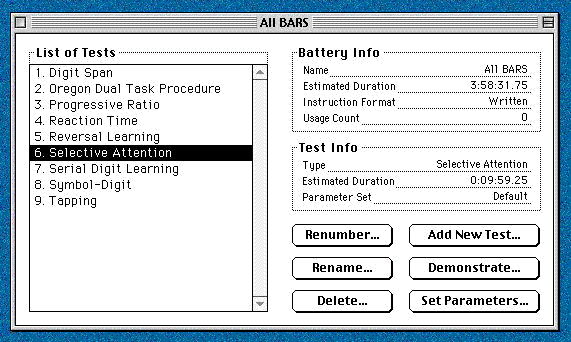 The buttons at the bottom right of the image are used to add or change individual tests. Highlighting a test (eg, Selective Attention test, above) from a battery (tests administered sequentially in a single session) of 9 tests allows the Investigator to: (a) change the test order (renumber), (b) add new tests, (c) demonstrate the test to examine the way it functions, (d) delete tests, and (e) set parameters, by clicking one of the buttons at the bottom right of the image. Key information about the battery and the selected test is presented at the top right of the image. The estimated time (duration in hours:minutes:seconds.fractions of a second) to complete the test in a young adult is shown for the parameters selected, and the estimate changes as the parameters change.
Below is a sample parameter screen (size reduced) with a sub-screen (produced by clicking on "Number of Seconds" to left of arrow). Sub-screens are used for parameters involving a large range of numbers.
Demonstrating BARS Tests
Click on the BARS Master Tab
Double click on the BARS icon
Select "Open Project" from the FILE menu
Select "All BARS" to access all possible tests (FDR BARS shown)
Click on a test in the "List of Tests" field to select it
Click on the "Demonstrate…" button
Select the input device (keyboard or DataSled/9BUTTON – if connected)
Follow instructions
To escape the demonstration:
Press ESC at any time during the demonstration -or-
At the "Call Examiner" screen, click on "Stop Demo"
Select "Quit" from the FILE menu when you are done