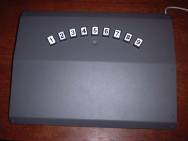 The 9BUTTON was created by NwETA principals as a computer input device for people who are unfamiliar with computers and reluctant to touch a keyboard ("I might break it"). The 9BUTTON is constructed to sit above even the largest laptop keyboard or to replace a standard keyboard. It connects to a USB 2.0 port (backward compatible with usb 1.0) on the computer. (It is no longer available for cTRAIN titles.) The 9BUTTON offers a number of benefits:
Each button is backlighted to indicate when it is "active" and may be used for input. The buttons and their backlit states are mirrored by on-screen images that show what each button does when pressed.
The 9BUTTON has an external jack to operate a 12-volt device under program control. (For example a token dispenser or counter for correct responses could be plugged in here.)
Its 4th generation industrial design and manufacturing assure long life under rugged conditions. The lamps are LEDs that virtually never need replacement.
The 9BUTTON has received FCC and USB authority approval.
Your computer's USB port delivers power to the circuit board and the LED lights in the buttons. There is no external power "brick".
The button panel underside has a heavy gauge protective grille that allows ventilation while shielding the electronic components.
The 9BUTTON has been used extensively in testing with occupational populations, including those who have limited education (see Rohlman et al., 2003 and other Publications).
Unit dimensions: 39.5 cm x 28 cm (3.295 lbs)
Button dimensions: 1.5 cm x 2.0 cm
Note: Due to the interface methodology,
9BUTTON units can be used only with
BARS and cTRAIN software.
Note that these units are not available in the European Union due to testing requirements.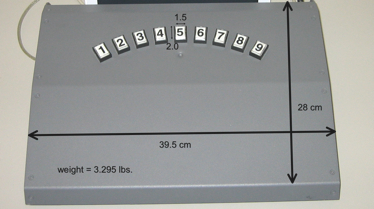 Additional Photos of the 9BUTTON
The 9BUTTON undergoing FCC testing in an anechoic chamber.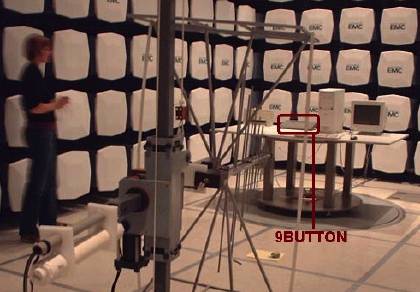 The 9BUTTON's protective grille on the underside of the button panel.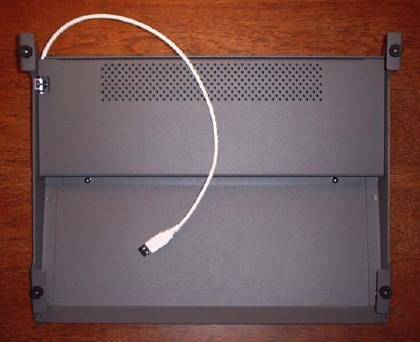 The 9BUTTON front panel.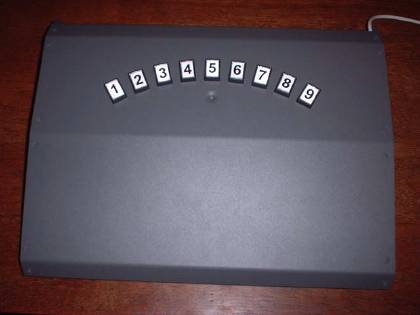 9BUTTON devices and their circuitboards during manufacturing.